Photo: Kelly DeLay via Flickr
Next week, more than 50,000 people will travel to Philadelphia's Wells Fargo Center (WF Center) for the Democratic National Convention. Political beliefs excluded, the event is going to be enormous—world famous politicians will speak, celebrities such as Bryan Cranston, Lady Gagaand even Star Trek's George Takei will be in attendance and the city will transform entirely for a four day span.
And in a city like Philly, a trip to the DNC isn't just about politics. Philadelphia is one of the nation's most historic places, and both the convention and the city itself are putting on countless events that will ideally capitalize on what is sure to be a pretty patriotic atmosphere. America's past isn't the only thing worth commemorating though—the City of Brotherly Love has a newer, trendier side that is sure to charm convention attendees as well.
With so much to see and do in just four short days, a little guidance goes a long way. Here's what you should know if you want to get the most out of the Democratic National Convention.
1. Sleep In Style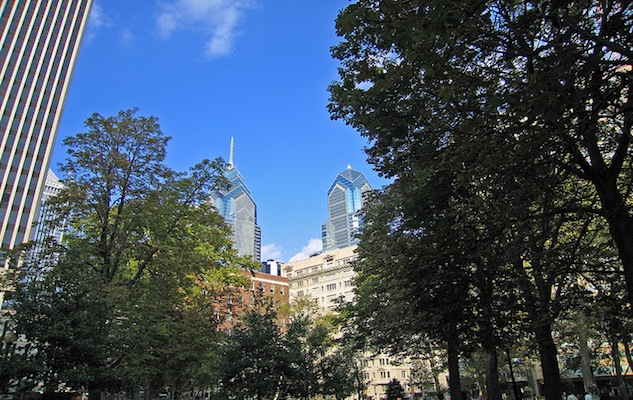 Photo: John Vosburgh, CC-BY
If you're looking to match your accommodations with an extravagance that will match the convention itself, AKA Rittenhouse Square is the place to stay. The hotel, situated within the city's shopping district, exudes celebrity—Richard Gere and Miley Cyrus have famously visited its spacious residences, and its interior was featured extensively in the movie Silver Linings Playbook.
For a more affordable stay, there are still a few hotels with open rooms in the area surrounding the WF Center, but the choices are slim. That being said, Airbnb actually has a decent number of listings available for the week of the convention.
2. Embrace the History
When attending an event as momentous as the nomination of the country's first major-party female presidential candidate, it's pretty easy to get into a historical type of mood. It seems as though the DNC has anticipated these needs though, and is offering PoliticalFest, a Philly-specific event for patriotic attendees to nerd out over—as a solution.
According to the PoliticalFest website, the event is a "one-of-a-kind festival celebrating political history, government and the road to the White House." The multi-media gala is essentially a giant, spread out museum, with exhibits at seven locations including the National Constitution Center and the National Liberty Museum.
3. Eat Like a Local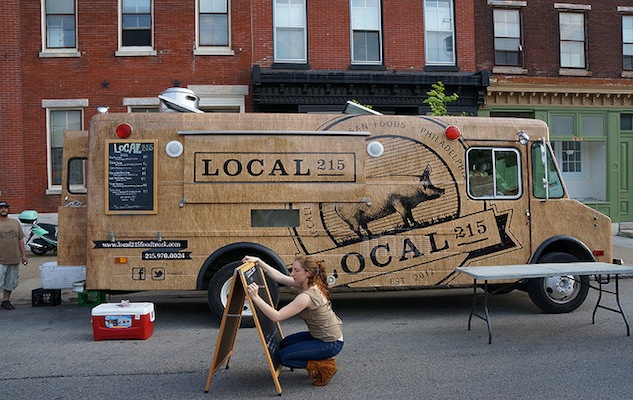 Photo: Arthur Etchells, CC-BY
All of this patriotism can be exhausting though, and eating well throughout the week will pay dividends when fighting through crowds on the way to and from the WF Center each day.
Thankfully, finding food should never be a problem during the convention, especially considering that the festivities will start off with a giant, DNC-sponsored food truck market. The event, called "Philly Feast, United We Eat," will be serving up food from Philadelphia-based vendors on Monday, July 25 from 11 a.m. to 3 p.m.
As the week marches on, those uninitiated in true Philadelphia food should look to some of the city's local gems for sustenance, because eating in Philly isn't just about cheesesteaks anymore.Bar Bombon is a Rittenhouse Square favorite, serving veggie-based Latin American cuisine and staying open late-night as a cocktail hotspot, while the nearby HipCityVeg has been gaining fast fame for its delicious vegetarian dishes.
4. Get Familiar With Philly
Of course, a trip to the convention is just as much a trip to Philadelphia as a whole, and should be treated as such. There's plenty to do around town before the actual convention gets started, which isn't until around 3 or 4 p.m., depending on the day.
If hotel prices and tickets to watch parties didn't completely delete your wallet, an outing in Rittenhouse Square, Philly's premier shopping neighborhood, is a must. Shoppers can find just about every clothing store known to man, as well as local designer boutique Joan Shepp, located just a few blocks away on Chestnut Street.
For a full view of the action, SkyGarten, the city's new 51-story high biergarten, is the place to go for an aerial of central Philadelphia.
5. Be a True Tourist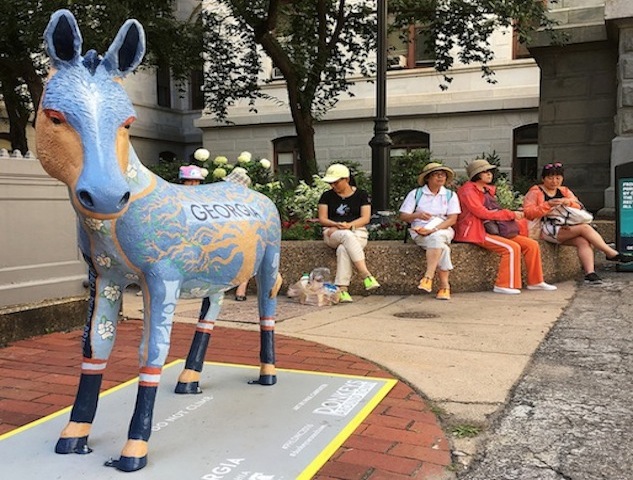 Photo: Blue Moonbeam Studio, CC-BY
The DNC has also gone to great lengths to ensure its attendees will remain entertained throughout the week, especially those who are looking to commemorate their time in Philly. For a surefire way to let everyone know you attended such a momentous event, look no further than the DNC's souvenir pop-up shop.
Meanwhile, more intangible mementos can be found in the somewhat weird, yet strangely fascinating "Donkeys Around Town" sculpture collection. Visitors are invited scour the city to find and take pictures with all 57 of the Democratic Convention's painted ceramic donkeys, which have been placed across downtown Philadelphia.
6. Attend a First-Class Concert
With A-List politicians and celebrities comes A-list entertainment, and this year the Democratic Convention won't disappoint in terms of top-notch musical performances. What would a Philadelphia-wide event be without an appearance from Philly native DJ Jazzy Jeff (Fresh Prince not included), who will share the BB&T Center stage with both Lady Gaga and Lenny Kravitzduring the DNC's final night.
Additionally, singers Janelle Monae and Cyndi Lauper are slated to perform early in the week, while both Demi Lovato and Grace Potter will be featured at a number parties throughout the convention.
7. Celebrate Into the Night
After the formalities of the DNC end each night, many attendees will probably be looking to blow off some steam. It seems as though Philadelphia lawmakers are aware of this potential side effect, and have even planned for it by allowing local bars to apply for a special license with which they can stay open as late as 4 a.m. during the week of the convention, two hours past typical last call.
To ensure you get a true taste of Philly during your stay, head to Victory Beer Hall, just a short walk from the WF Center, for a some of the city's most popular local brews. Or, if you want to keep the patriotism going after hours, consider Tippler's Tours' Colonial Pub Crawl, which combines history lessons with an authentic night on the town.
Originally published in Paste Magazine.